Home, Landlord, Non-Standard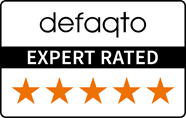 Our quotes are provided through insurers that have been expertly assessed and awarded a 5 star rating by Defaqto. Defaqto star ratings show the quality and comprehensiveness of the features and benefits a financial product offers.

This type of cover protects your home and its contents against things such as fires, floods, theft and many other unexpected perils. A home insurance policy provides peace of mind that if the worst happens, the costs are covered. We can provide cover for Buildings and Contents, Buildings only, Contents only and Tenants insurance.

This type of insurance (also known as buy-to-let insurance) typically covers for the same perils as a home insurance policy however it also includes cover against additional risks associated with renting your property out, such as damage caused by tenants, loss of rent, and legal liability.

Finding it tricky to get cover? If you need anything more specific we can help, we have access to an extensive panel of insurers who provide cover for non-standard constructions, unoccupied properties, holiday or second homes, high net worth, previous flooding/flood risk area, previous subsidence/subsidence area, business use, claims history and many more!
Need some help? Talk to us
We pride ourselves on providing world class customer service, whether you're a partner, customer or simply want to find out more, we would love to hear from you: